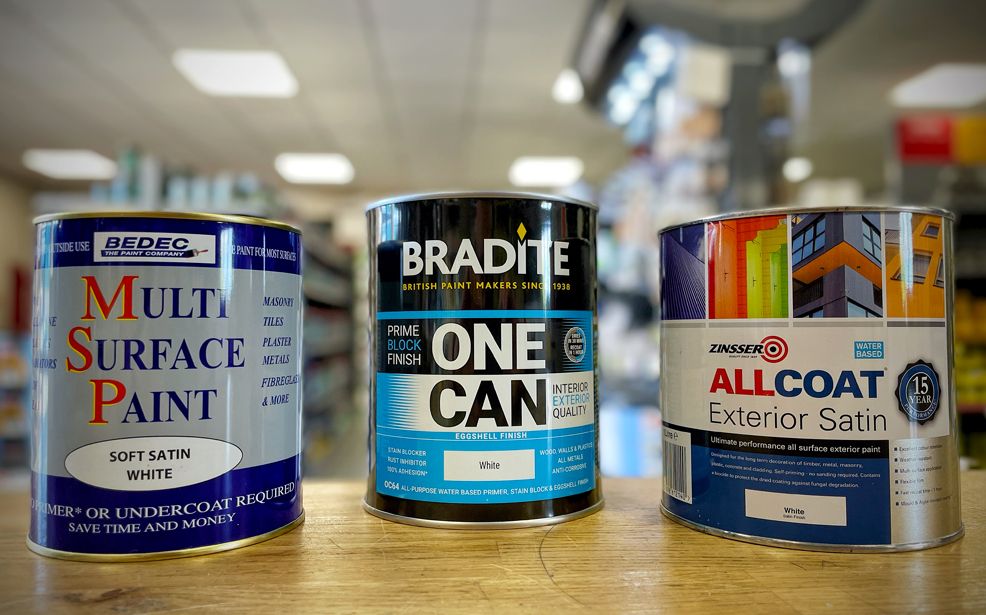 MSP
Have you heard about or even used one of the three Multi Surface Paints we stock?
Zinsser's "All Coat", Bradite's "One Can" or Bedec's "MSP".
This month we're going to give you a little bit more detail about them.
MSPs are all designed to be a two-coat system in one product. So, they're self-priming and self-undercoating, with the second coat being the top or final coat*.
*When over painting strong colours or using a dark colour, it is advised that a third coat may be needed to achieve a good depth of colour.
That leads us nicely to the tinting of colours, all three of our MSPs can be coloured.
Zinsser's "All Coat" is a tintable white, this means we can only tint it to pastel shades.
Bradite's "One Can" is stocked in bases, allowing us to match to RAL, NCS and BS4800 colour palates.
Bedec's "MSP" is also available in bases, and we can offer a full colour matching service in any colour with this product.
All three of our MSP's are water based, so they'll always stay their colour without any yellowing. Clean up will also be easy when you've finished, all you'll need is some warm soapy water for your brushes/rollers/trays.
Also, another bonus because they're water based! Their dry and re-coat time is super quick, with Bradite and Zinsser winning with a rapid 1 hour recoat time, Bedec's 4 hour recoat time.
As their name suggests they can be painted on a very long list of materials/surfaces from old gloss paint, concrete through to ceramic tiles! All with the minimum of prep, basically a light sanding and/or degreasing. All three can be used inside as well as out, as all three are exterior rated.
Zinsser's "All Coat" product is great on exterior wood like fascia's and barge boards as it contains a Mould Algae resistant additive.
Bradite's "One Can" is ideal for any exterior metal work as it has a rust inhibitor in the mix, it also has fantastic stain blocking properties so works well on new soft wood timber where knots are an issue.
Bedec's "MSP" is fantastic if you're wanting to match your favourite colours across a range of surfaces.