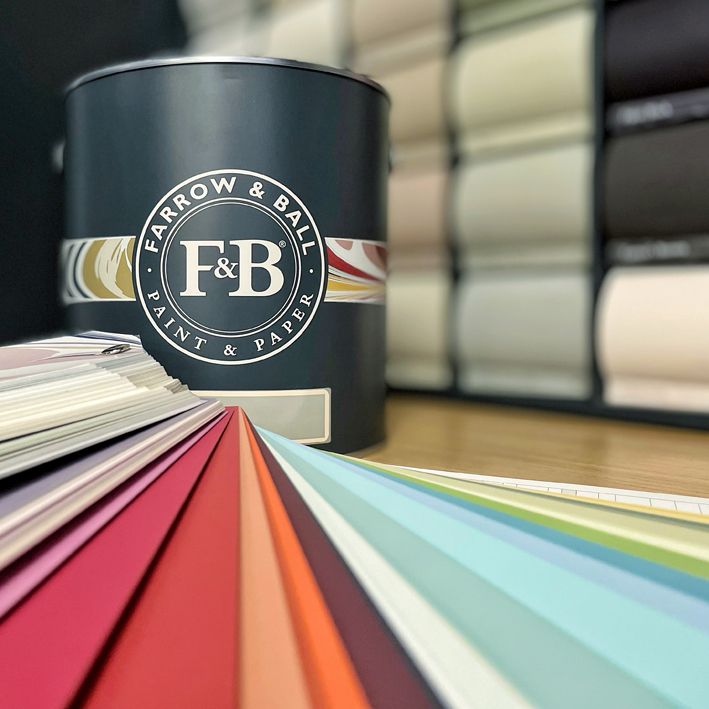 Dead flat .
The technology experts at Farrow & Ball have re-engineered Dead Flat. With a breakthrough in paint chemistry they've been able to deliver the celebrated deep richness of colour combined with an incredibly durable paint. Their easy-to-use formulation can be painted onto walls, woodwork and metal.
Fantastic if you're wanting to colour drench a room! Colour drenching is growing in popularity, amongst interior designers and DIY/home decorators alike. Farrow & Ball's Dead Flat allows you to paint the same colour with the same finish, from your ceilings right down to your skirting boards.
Dead Flat gives you the option of Farrow & Ball's depth of colour of their signature Estate emulsion, with the durability of Modern emulsion. Also carrying a Class1 scrub rating, means you can physically scrub marks from the paint without lifting the colour. Perfect for a home with young children, pets or both. It's also ideal heavy traffic areas like halls/stairs/landings, boot and utility rooms.
A little bit of history of Farrow & Ball.
"Farrow & Ball originally developed Dead flat over 70 years ago, recreating the 18th century 'flatted lead' paint effect. This traditional method involved teams of artisans painstakingly layering coats of paint. Creating a deep, rich and pigmented matt look. This was usually reserved for the formal reception rooms of a house."

"Tom Helme made a chance discovery of a tin of Dead Flat by Farrow & Ball in the early 90s, this was a pivotal moment in creating the Farrow & Ball we know today. Tom as impressed by the simplicity, quality and depth of colour of the paint. He sought out the manufacturing company and together they bought it, setting the brand on its current direction!"